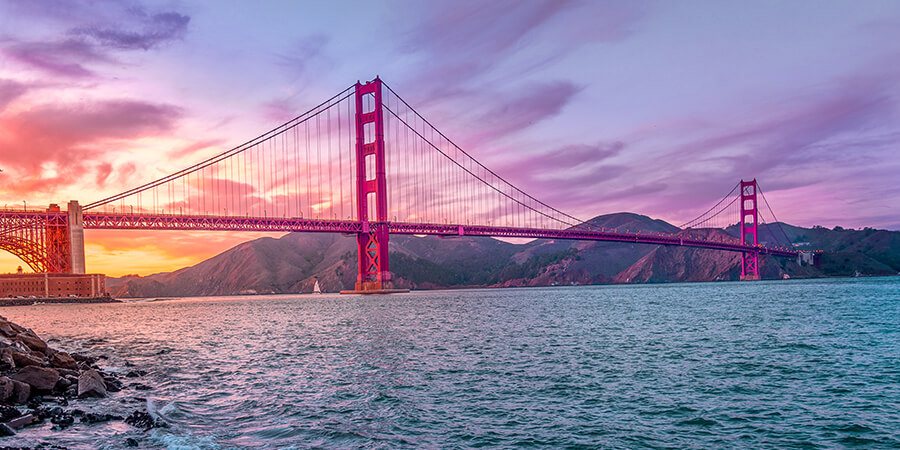 NAPA, CALIFORNIA
is a city that's found within the county of Napa, and with a large population of nearly 75,000, this is one of the bigger cities in our San Francisco party bus service area. The zip codes are 94558, 94559, and 94581. Some of the area's attractions include the Napa Valley Wine Train, the Napa Valley Opera House, the Andretti Winery, and of course Balloons Above the Valley. If you're planning to visit this area on one of our party buses, you may want to think about making arrangements to dine or drink at one of these wonderful restaurants and bars.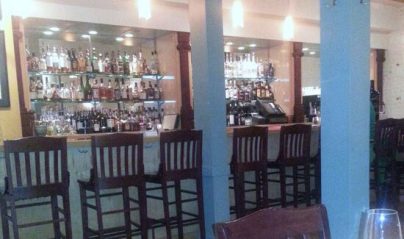 Celadon
Celadon is a very eclectic International restaurant that combines many wonderful flavors into a distinctive mix that we can't resist. They're really mastered the art of comfort food, bringing you all the best entrees and appetizers plus incredible desserts, and alongside that they've got one of the most impressive wine lists that you'll find in Napa. It's gorgeous for dates here, and we would highly recommend it for special occasions. Really a gem in Napa! You can find Celadon on Main Street near the intersection with 5th Street.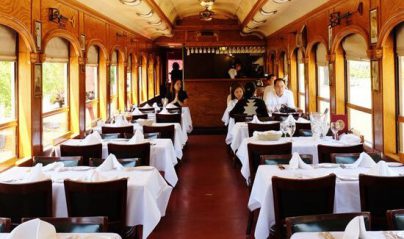 Napa Valley Wine Train
Napa Valley Wine Train is one of the coolest theme restaurants in the world if you ask us, and it's been going strong right here in Napa since 1989! The ride is very smooth and you're surrounded by gorgeous views, and the food itself is really noteworthy and delicious. Clearly lunch is a better time to go than dinner, since you can see the beautiful views in the daytime. The wine selection is somewhat limited here, surprisingly, but it's a nice choice of wines and you can't go wrong with any of them. Vegetarians are well taken care of here too. You can find Napa Valley Wine Train on McKinstry Street near the intersection with 1st Street.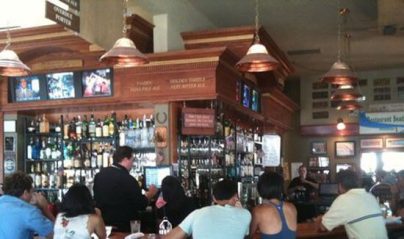 Downtown Joe's Brewery & Restaurant
Downtown Joe's Brewery & Restaurant is one of the most laid back and comfortable places to relax with friends in the Napa area. They've got such a wide variety of beers and microbrews for you to enjoy, in addition to a full menu of delicious delights. The staff here is simply superb, just a cut above the rest, with such attention to detail as well as care and concern for the customer's needs. You can really put your cares away and just chill here, and after a long hard week at work, everybody appreciates that. You can find Downtown Joe's Brewery & Restaurant on Main Street between 1st Street and 2nd Street.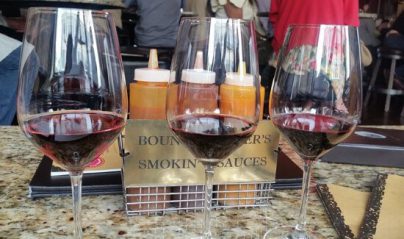 Bounty Hunter Wine Bar
Bounty Hunter Wine Bar is a really elegant and enjoyable place to enjoy lunch or dinner along with that perfect glass of wine. Though the food and the wine are both top notch, the service is even above either of those. The staff really knows their stuff when it comes to wine selections, so if you are a beginner or just want to shoot the breeze and show off your own knowledge of wine, you can do that with them! No problem. This is truly one of the largest wine lists in Napa. The barbecue platter is our favorite thing to eat here, and the beer can chicken and ribs are another that we love! You can find Bounty Hunter Wine Bar on 1st Street near the intersection with Main Street.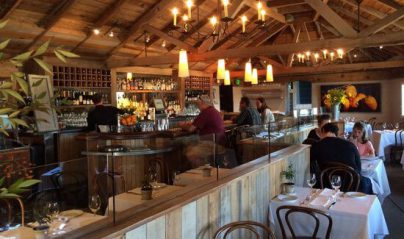 Angele
Angele is your source for the finest French food in Napa. The brunch is always great, and we also really enjoy lunch and dinner here. Their nightly specials make it easy to save a few dollars while having something new, and you'll be very pleased with their extensive and impressive wine list too. It's romantic and elegant here, really perfect for dates or special occasions. The patio is a really wonderful place to sit when the weather is good. We recommend the roasted veggie sandwich or a nice juicy hamburger, and the salad nicoise and french onion soup is great too! You can find Angele on Main Street near the intersection with 5th Street.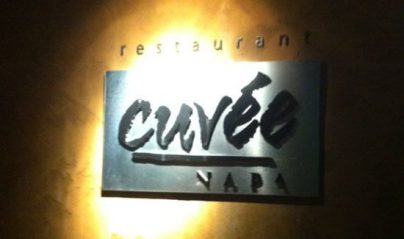 Restaurant Cuvee - CLOSED
Restaurant Cuvee is a true taste of Europe with really excellent appetizers including a dusk wrap that is just excellent, plus entrees like mussels that will really please the seafood fans. The bruschetta is also a very nice starter here, and the paella is just amazing. You will really enjoy their wine list, with many fruity and bold choices to tantalize your tastebuds and pair perfectly with an already excellent meal. We can't say enough about the service here, it's really out of this world, and the ambiance is just superb. You can find Restaurant Cuvee on Soscol Avenue between Randean Way and Tanen Street.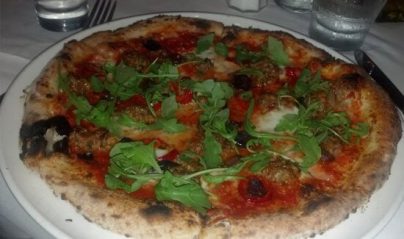 Bistro Don Giovanni
Bistro Don Giovanni is yet another incredible Italian dining experience in Napa. Many reviewers have called the food "amazing," and we would certainly agree with that. The prices are a bit high here and the portions are on the minimal side, but that's pretty typical for a gourmet restaurant like this. You don't need giant portions when the flavor is so huge! We really love the ambiance here, and the bar is a very nice place to sit and enjoy some good conversation over expertly mixed drinks and perfectly poured wine. You can find Bistro Don Giovanni at 4110 Howard Lane.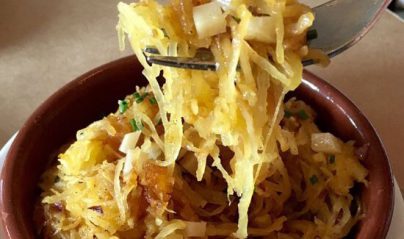 ZuZu
ZuZu is your top choice for tapas in Napa, and there are many choices for dining here. You can choose to dine in the main downstairs dining room, enjoy your meal in the wonderful upstairs loft, or perhaps choose to have it right at the bar along with your choice of drinks. Zuzu has won the distinction of being called one of the Top 100 Bay Area Restaurants several years in a row, and we just adore it here. You'll love the fact that none of the prices here are over eleven dollars, at least not at the time of this review! We'd recommend the quail wrapped in grape leaves, and the bacalao is fantastic! You can find ZuZu on Main Street between 2nd Street and 3rd Street. One of the best!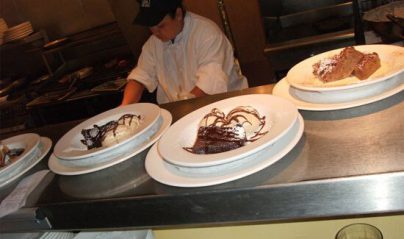 Cole's Chop House
Cole's Chop House is a huge hit with all the steak lovers out there, including us! They've got one of the most wonderful atmospheres around, just relaxed and chill, and nicely decorated, with a great waitstaff that really puts in extra effort to make sure that you feel comfortable and at home. Definitely one of our favorite steakhouses in the area. The steaks, the wines, the cocktails, the salads, the desserts... we could go on and on about all the things that make this place a winner. But instead, why not just head on over there and find out what you've been missing? You can find Cole's Chop House on Main Street near the intersection with 1st Street.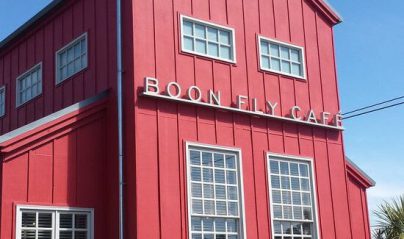 Boon Fly Cafe
Boon Fly Cafe is all about comfort food in a comfortable farmhouse setting. The breakfast is really fantastic here, and you can't beat having your eggs and breakfast meats in a wonderful farm-like setting like this! The best breakfast is definitely the Cup O' Joe and Donuts. You've got to try it. Of course there are also amazing lunches and dinners waiting to be had here, and we love to enjoy the cornbread muffins and beer battered onion rings too! Everything is just so great here. You can find Boon Fly Cafe on Carneros Highway near Los Carneros Avenue.