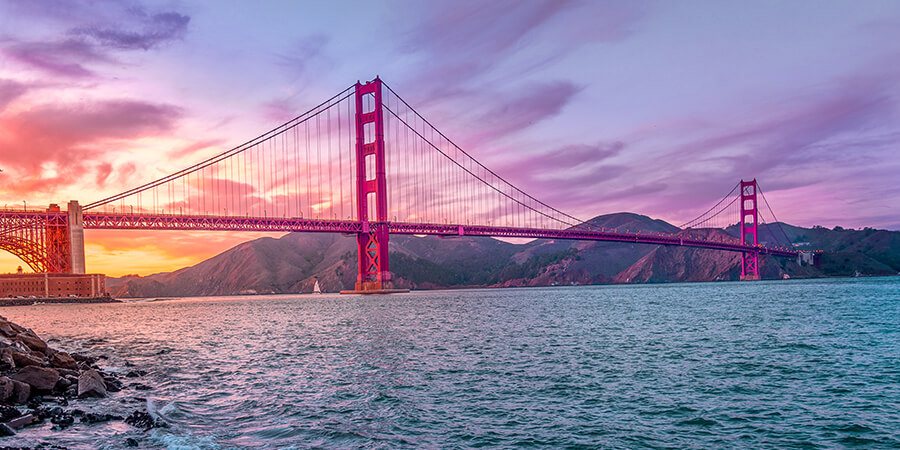 WOODACRE, CALIFORNIA
is a mostly residential city in Marin County, with just under 1,400 residents. The zip code that covers Woodare is 94973. Are you traveling to Woodacre anytime soon? There are no restaurants within the city itself that we are aware of, but there are plenty in the surrounding cities of Nicasio, San Geronimo, Fairfax, and San Anselmo that we would recommend very highly to you, and they're only a short drive from the center of Woodacre. Be sure to try one or two of these when you're in the area! These are our top picks.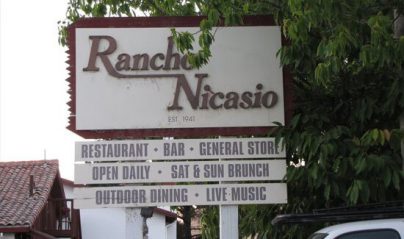 Rancho Nicasio Restaurant & Bar
We love that Rancho Nicasio Restaurant is such a beautiful venue mixed with a roadhouse feel and a rustic ambiance that just can't be beat. If you're the steak and potatoes type like we are, they have lots of good stuff here for you, and they've even got live music so you can enjoy a concert while you dine. We also really love their wine selection and made-from-scratch desserts. Sunday afternoons are a time when we come out for their outdoor barbecues, and that too is alongside great live entertainment. Nothing better than some barbecue and live blues! You can find enjoy a meal or host a private event at Rancho Nicasio at 1 Old Rancheria Rd!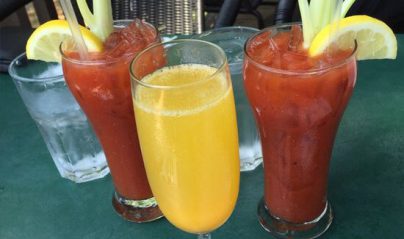 Two Bird Café
You really haven't lived until you've dined at Two Bird Café in nearby San Geronimo. This is a top-notch place for seafood, and we also love coming in for their breakfasts. When we're here in the mornings we like to opt for their eggs, and if we come in the afternoon the pan-fried trout is a great choice, and we also love the mussels du jour. Brunch is also fantastic! If you come in the winter time you'll want to enjoy their fireplace, and if you come in the summer their outdoor seating is really divine. Live music too... What more could we possibly say? Just one thing: The staff here is one of the hardest working and the most caring that we've ever encountered. We think that's enough praise to convince you that this restaurant is one in a million! You can find Two Bird Café on San Geronimo Valley Drive between Sir Francis Drake Boulevard and Creamery Road, in nearby San Geronimo.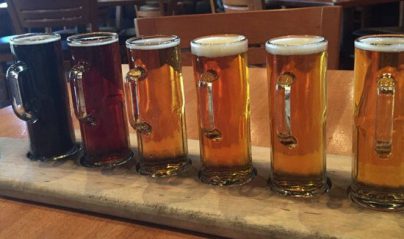 Iron Springs Pub & Brewery
We have recommended Iron Springs Pub & Brewery to our friends so many times, and here we are once again recommending it to you. They're known for their great beer selection and of course those enticing garlic fries, but what we also love here is the fun and upbeat atmosphere and the amazing crowds of people that always seem to fill the place! It's the type of bar where you won't leave without having some great conversation. There's not a whole lot of room at the bar so if you'd like to sit there be sure to arrive early. Our favorites would have to be the Fuji apple salad and the fish tacos! Of course their hamburgers are really excellent too, but you probably already know that. Iron Springs Pub is easy to find on Center Blvd in Fairfax between Broadway and Pacheco Ave.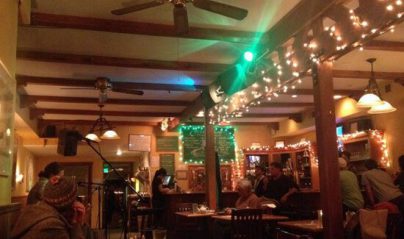 The Sleeping Lady - CLOSED
We love to wake up and start the day with a breakfast at The Sleeping Lady. We love their eggs Benedict and have enjoyed trying many different restaurants in California and if we had to pick our favorite take on this dish, and we think the eggs Benedict at The Sleeping Lady is it! We also love coming in on Sundays to enjoy their live Irish music. Their microbrews here are really top notch, and another thing that we love about this place is how family friendly it is! Very clean too, and really nice staff. The Sleeping Lady is located in Farifax at 23 Broadway Boulevard! We just love it here!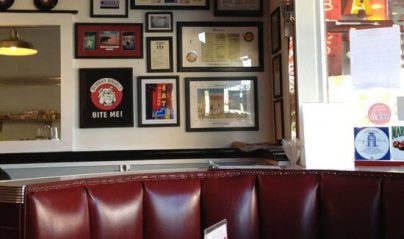 Bubba's Diner
Bubba's Diner is yet another one of those lovely little greasy spoons (not literally!) where you can stop in for some old fashioned diner fare and enjoy a delicious lunch with your loved ones. If you're looking to save a few bucks and still get a great meal, this is a really good bet. We love the breakfasts, and their slider appetizer is one of the highlights if you ask us. They've even got a soft shell crab B.L.T. that we love. They really know how to upgrade the usual... try the Kobe beef and the burgers! Great meatloaf too, and if you love a good milkshake, you will be right at home here. Stop on by Bubba's Diner in San Anselmo, located on San Anselmo ave between Magnolia and Tamalpais!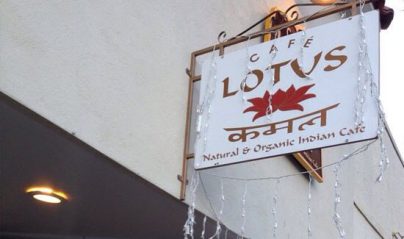 Café Lotus
Café Lotus is a really lovely place to get your favorite Indian food. The ingredients are organic and locally sourced, so not only are you treating yourself to a delicious meal, you are also treating your body to some very healthy nourishment. Very in line with the California lifestyle, don't you think? We do. We love their tikka masalas here, and all of their curries are just fantastic. We don't find that the level of spice here is quite as hot as we'd like it, so we tend to order things a little spicier than we would at other restaurants. If you actually prefer it mild, you'll love the way they do it here. The service is really excellent too, and the ambiance is very comfortable and beautiful. Satisfy your Indian food craving at Café Lotus, over on Sir Francis Drake Blvd in Fairfax.
Deer Park Villa
Since we've featured quite a few great breakfast spots on this list so far, it only seems right to feature Deer Park Villa, which is yet another one of our favorites for the first meal of the day! They've got some of the very best eggs around. Lunch is also wonderful, with their very crisp and fresh salads and their exquisite meat dishes that make use of grass fed beef. Both healthy and delicious! They have wonderful ghocchi too, and a house wine that is just superb. The surroundings are just unbelievable here, with the tallest trees and the most majestic outdoor atmosphere of any restaurant we've visited in the area. It's hard to leave this place, it's so beautiful! You can find Deer Park Villa in Fairfax on Bolinas Rd near Fawn Ridge!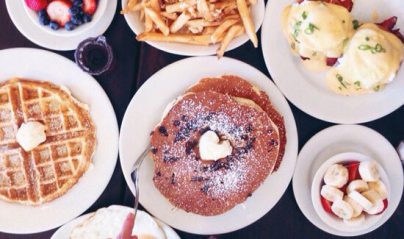 Barefoot Café
Surely you've heard of Barefoot Café? This is one of the most beloved places to get delicious Mediterranean food, and they also have lots of Californian and American treats too, so everyone in your party will be able to find something that they love. We are really hooked on the spinach scramble and havana omelette, and how about those unbelievable currant scones with lemon curd? Wow. For lunch we'd highly recommend the tuna melt and fries, it's a great combo! If you're there for dinner, it's got to be the prime rib. Enough said! Everything here is just too good to resist! You can find Barefoot Café less than 10 minutes away in Fairfax, on Sir Francis Drake Blvd!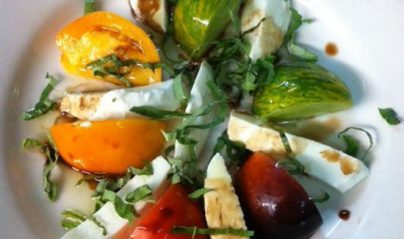 Fradelizio's Ristorante
Fradelizio's Ristorante is your best bet in the Woodacre-Fairfax area if you are craving delicious home cooked Italian food. The atmosphere is just so beautiful and so nicely decorated, and the service is efficient and friendly, so it's a great date night spot. We're really hooked on their delicious gnocchi, and of course everyone enjoys the loaf of bread and butter that they bring out at the beginning of your meal. If you're dining with more than just one other person, you know what we mean when we say it's there and then it's gone! Everybody grabs it quick and devours it because it's so good! We love all of their pasta dishes, because all of the sauces are phenomenal, and we highly recommend any one of the salads too. 35 Broadway Boulevard in Fairfax is where you can find Fradelizio's!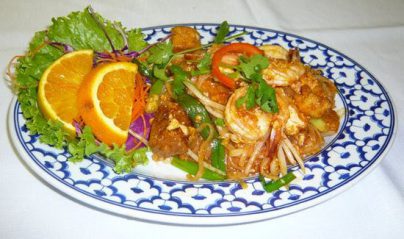 Siam Lotus
Siam Lotus is the last restaurant on this list but it's certainly not least in our affections! We are absolutely in love with their delicious Thai food, and if you're not already familiar with this dining establishment then it's definitely time that you check it out! The food is served in large portions just like delicious food should be! The chef's specials are always good to try, and all the classics such as Pad Thai are really highly recommended here. We've never had a bad dish, so we feel very comfortable recommending the entire menu to you! The ambiance at Siam Lotus is comfortable and casual, so stop in for a bite any time. Delicious Thai cuisine is just down the road, at 25 Broadway in Fairfax!