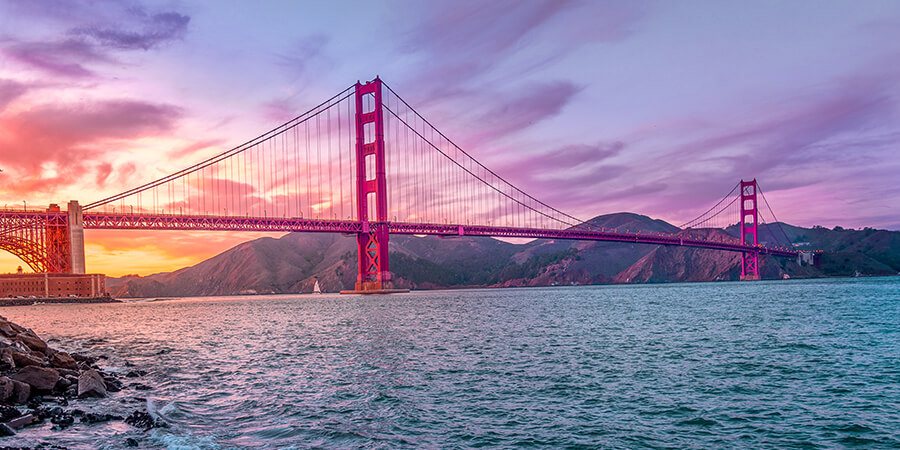 STINSON BEACH, CALIFORNIA
can be found within the county of Marin, and at the last count there were just about 750 people living in the area. The zip code is 94970. The beach is very popular among surfers though it's some of the coldest water in the area, and it also happens to be one of the foggiest places in the area through most of the year. Nearby you'll find the Muir Woods National Monument, Mount Tamalpais, and Muir Beach. The hiking trails in this area are also incredibly popular with both the residents and tourists. If you're coming into the area for any reason, here are some of the best restaurants and bars within driving distance of the beach!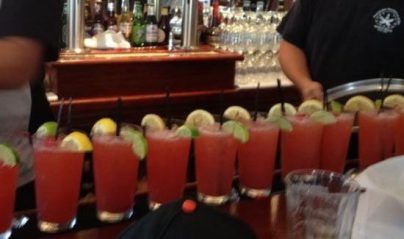 Sand Dollar Restaurant
Sand Dollar Restaurant is probably the closest restaurant to the beach, and it has that wonderful beach town atmosphere too. We love to come in after a long day on the sand, and enjoy that live piano music as well as the incredible food! The pasta is out of this world here, and we also really enjoy their seafood and steaks. The scallops with mushrooms and spinach are another one of our favorite items. When the weather is good, we really recommend sitting on their outdoor deck seating area, and sitting at the bar for a couple of drinks is always a joy too. Sand Dollar Restaurant is found at 3458 California 1. Very highly recommended!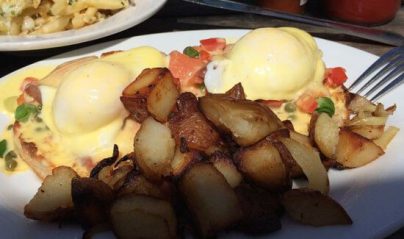 Parkside Cafe
Parkside Cafe is just an incredible place to go when you're in the Stinson Beach area, with some of the very best tasting crabcakes that we've ever had! They also have really great pulled pork sliders and mashed potatoes. True comfort food! Their weekend brunches are some of the busiest in the area because everything is just so good, and both residents and tourists really pack in here for that high quality food. Arrive early if you want to get in! The huevos rancheros are great here. After we fill up on a really great meal, we love to head right out to the beach for a long relaxing walk. You can find this wonderful restaurant at 43 Arenal Avenue.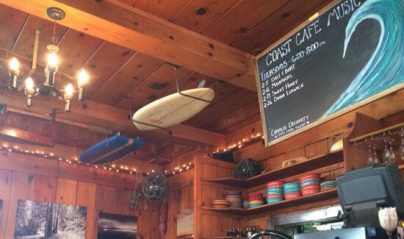 Coast Cafe
Coast Cafe is actually located in nearby Bolinas, but it's within a five mile driving distance of Stinson Beach, and we just love coming here after a long day at the beach. Their Marin Sun Farms burger is one of our favorite things on the menu, along with the delicious oysters, crabs, fish and chips, and of course that famous blackberry pie a la mode! Yum! The service is really wonderful here, with very friendly staff as well as nice locals who are always chatty and outgoing. It's kind of a mix of old fashioned charm and contemporary ambiance here, and we love that. It's hard to find a place this good. Coast Cafe can be found at 46 Wharf Road in nearby Bolinas! Very highly recommended.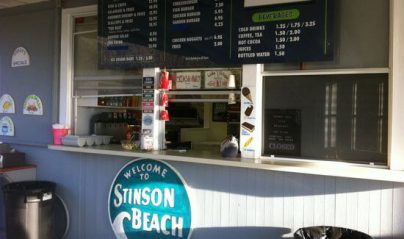 Surfers Grill - MOVED (now The Siren Canteen)
Surfers Grill is one of the most authentic beachy restaurants that you'll find in Stinson Beach, literally located right there by the sand, looking just like a lifeguard station from the outside! The fish and chips are really excellent, and we love the fact that their tartar sauce is homemade and really delicious. Some of the best that we have ever had. The clam chowder is excellent too, and all the American basics like hamburgers, french fries, and ice cream are all there too. They're all really good. We love sitting at the counter old school style! Note that they only take cash here, so stop at the ATM before you go. It's worth it. Surfers Grill can be found on Highway 1 in Stinson Beach!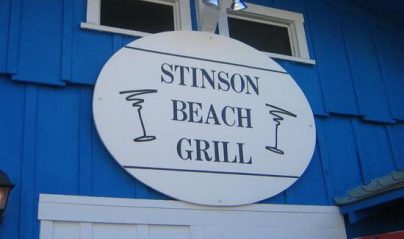 Stinson Beach Grill - CLOSED
Stinson Beach Grill has been one of our favorite for a while now, being a really fabulous lunch spot with some of the best coffee in town. They've got all your American favorites plus many seafood dishes, and you can tell that the place is good by how many locals pack it daily with their presence. We really love their burgers and fries here, and a nice cold beer after a day on the beach is one of those simple pleasures that you just can't beat. On a cold day we really love to sit near their wood burning stove. We highly recommend their special Bloody Mary made with Ketel One! Stinson Beach Grill can be found at 3465 Shoreline Highway. Don't miss it!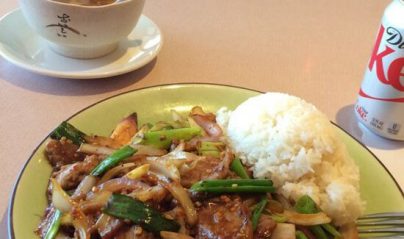 May Lee's Chinese Cuisine and Sushi
May Lee's Chinese Cuisine and Sushi is one of our favorite places for takeout in the area. It's a little small on the interior so we don't often eat in. The sushi is surprisingly good compared to the sushi that we have found at most Chinese places... they even have rainbow rolls and kamikaze rolls here, and they are very good! When it comes to the Chinese food, our favorite is the lemon chicken, and their beef with asparagus is another one that we really enjoy. Very good food and very friendly service! May Lee's Chinese Cuisine and Sushi can be found at 247 Shoreline Highway in nearby Mill Valley, within a five mile driving distance of Stinson Beach.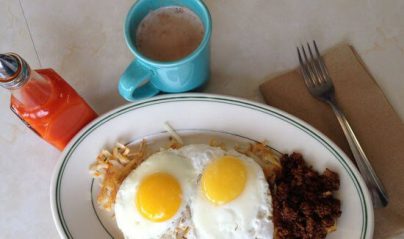 Shoreline Coffee Shop
Shoreline Coffee Shop is a Mexican cafe that has a very charming eclectic decor, with bright colors and yet a very classic diner style ambiance that we enjoy too. The chili peppers that they have hanging really add to the ambiance too. In terms of the food, we enjoy the sincronizadas very much, and the chicken tostada salad, as well as the more American standards like hamburgers and breakfast food. Everything is very good here, especially the coffee! Very nice staff as well. Shoreline Coffee Shop is located at 251 Shoreline Highway in nearby Mill Valley, not far from Stinson Beach at all by car! We love it here. Very highly recommended.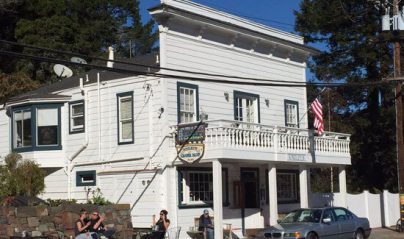 Smiley's Schooner Saloon & Hotel
Smiley's Schooner Saloon & Hotel is a wonderful place to stay and to party when you want to visit Stinson Beach. It's located within driving distance of the beach, and they've got a wonderful bar where you can enjoy live entertainment too! There's no beer on draft there unfortunately, and they give you your beer in a bottle, but we kind of enjoy the simplicity of everything here. It's what some would call a dive bar, and the best thing is that if you have one too many, you can just grab a room instead of hailing a cab. Smiley's Schooner Saloon & Hotel can be found at 41 Wharf Road in nearby Bolinas. Gotta love it!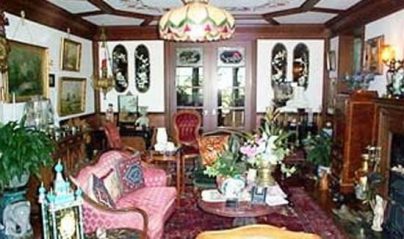 Redwood Haus B&B
Redwoods Haus Bed & Breakfast is a place that we have stayed at many times when we are visiting Stinson Beach. The room at the top is our favorite, known as The Crow's Nest, and we just love listening to the ocean at night from that perch that feels like it's on top of the world. That private deck is really exquisite, and the breakfasts are very good here. Fresh hard boiled eggs, potatoes, chicken... lots of great things to fill up on before you hit the beach, and good company too. They're even cool with dogs here, and they have never charged us a deposit for it. It's true that the place is a little dusty as all the reviews online have said, but if you can appreciate the "lived in" atmosphere (and don't have allergies to dust!) then you can appreciate it. It's a trade off for that great beach location! You can find Redwood House B&B at 1 Belvedere Avenue.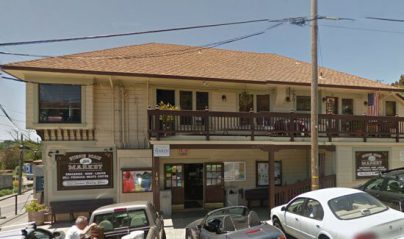 Coffee Stand
Coffee Stand is the spot that we always go to for great coffee when we're in Stinson Beach, and we love the friendly baristas, the variety of drinks, and the cool atmosphere. You can get your lattes with milk or with soy milk, and and their fruit smoothies and mocha smoothies are really out of this world too. After a long day on the beach, there's no better place to stop in for a quick caffeine refueling. Icy cold drinks and hot drinks, great conversation, fun and friendly staff, great atmosphere... we could go on and on! Coffee Stand is at 101 Calle del Mar. Very highly recommended for a great cup of joe.