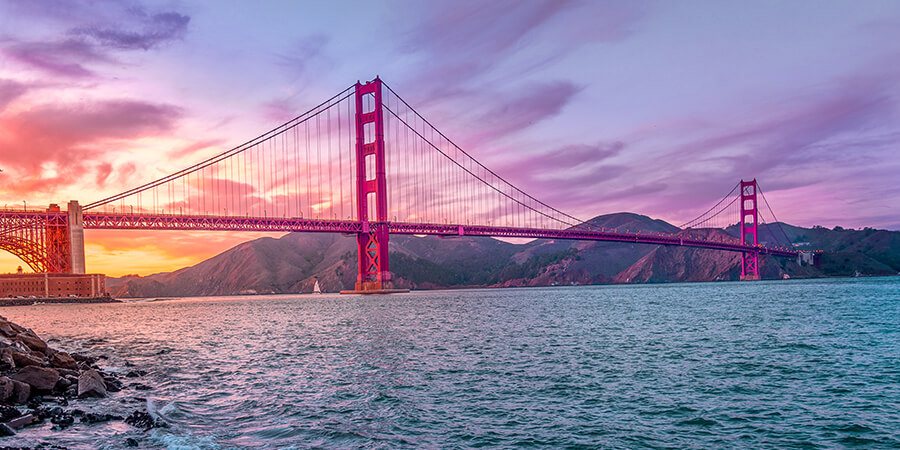 MENLO PARK, CALIFORNIA
is a city that's located within San Mateo County, with a population of just over 30,000 at last census count. One of Menlo Park's claims to fame is that Google was founded there in 1998. Beyond that it's also home to many fascinating complexes, including lots of Silicon Valley venture capital firms, the Western Region office of the United States Geological Survey, Menlo College, SRI International, and many more. Our beloved Round Table Pizza got its start here too! If you're coming to Menlo Park, please take note of these recommended restaurants and bars in the 94025, 94026, 94027, 94028, and 94029 zip codes!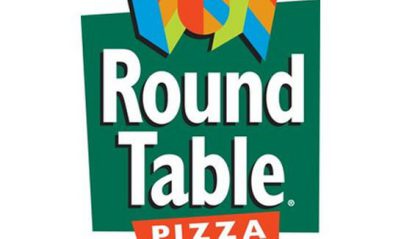 Round Table Pizza
It would be silly not to include Round Table Pizza on our list of best restaurants in Menlo Park, considering the fact that we have recommended it in almost all of the other cities in which it has a home, and this particular location happens to be their very first one! This is where it all began. As you know, it's built on the premise of the Knights of the Round Table, and as such we'd very highly recommend their King Arthur pizza! It's what they're best known for, and for good reason! So good, really piled high with cheese and toppings! Whether you opt for a pan pizza or a skinny pizza, you can't go wrong! You can find this Round Table Pizza location at 1225 West El Camino Real!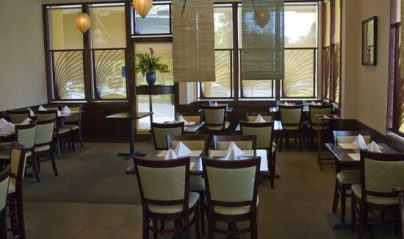 Kaygetsu Restaurant - CLOSED
Kaygetsu Restaurant is an excellent sushi restaurant that happens to be a bit more authentic than most that we have found in the area. The atmosphere is very beautiful and relaxed, with decor that really puts you in a very soothing frame of mind. They've got lots of gourmet choices here, and one of the most highly recommended dishes is the Kaiseki Meal. Pair that with some sake and you are good to go. Which sake would we recommend? Definitey the Kura No Hana Daiginjo. It's the best. you can find Kaygetsu Restaurant on Sharon Park Drive near Sharon Road.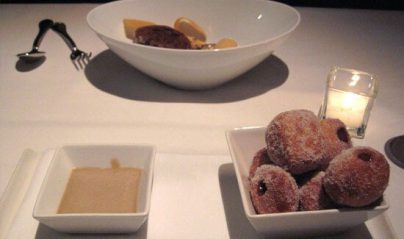 Marche - CLOSED
Marche is an excellent and elegant French restaurant that brings the delicate flavors of Europe right to us here in Menlo Park. The ambiance is just perfect, very beautifully decorated with sophisticated shades of brown, including their comdortable leather seating that we just love. The pricing can be a bit expensive, including a corkage fee that is a bit on the high side, but we think it's worth it for a great dining experience like this. The wine list is noteworthy, and the coffee is superb. Everyting on the menu is top notch. You can find Marche on Santa Cruz Avenue between Evelyn Street and University Drive.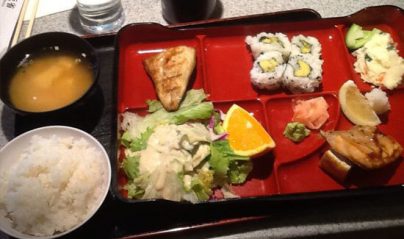 Gombei Japanese Restaurant
Gombei Japanese Restaurant is one of the few Japanese restaurants in the area that is strictly Japanese food--no sushi! Now, we happen to be sushi addicts in the worst way, but we also appreciate the other Japanese delicacies like udon noodles, katsu curry (not on the menu but they'll do it for you!), and teriyaki. It is great to see a Japanese restaurant that focuses on those things and doesn't let the current American trend of sushi dictate how things will be done! Very authentic and truly a gem of a restaurant, from the food to the service to the atmosphere! You can find Gombei Japanese Restaurant on El Camino Real between Glenwood and Encinal Avenues.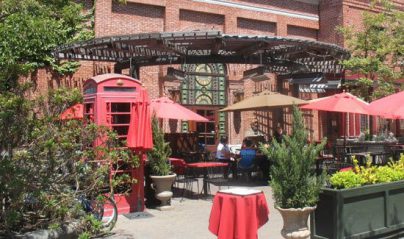 British Bankers Club
British Bankers Club is perhaps best known as simply BBC, which is very appropriate since it's all London style! It's very authentic, with the kind of atmosphere that you wouldn't expect to find on this side of the ocean, and yet there it is just waiting for you to discover and enjoy it. We'd recommend the foie gras burger the most, and the garlic pepper chips are something that you cannot pass up. You'll really enjoy their karaoke and live DJ, and they've got a great beer selection too! You will be able to find British Bankers Club on El Camino Real, between Menlo and Santa Cruz.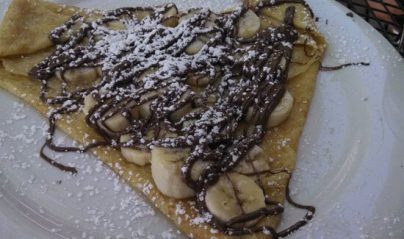 Crepes Cafe - CLOSED
Surely you've heard of Crepes Cafe, and if not, then it's about time that you do! They are known for both their crepes and their fondue, and everything here is simply fantastic! We have no idea where they found an excellent waitstaff like this, but we hope they never change the lineup! They really are the best we've ever encountered. Very attentive and accommodating. It's great to start off with the savory crepes as an entree and then have the sweet ones for dessert. If you thought France was the only place to get the best crepes in the world, think again. Crepes Cafe right here in Menlo Park has got the inside track. You can find it on Merrill Street between Hamilton Avenue and Forest Avenue.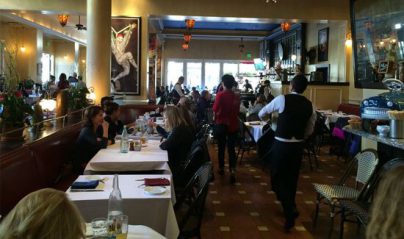 Left Bank Brasserie
Left Bank Brasserie is another great spot for French food in Menlo Park, and with the irresistibly beautiful atmosphere, the incredibly tasty food, and the great service that you will not find elsewhere, this is truly a winning experience! We'd very highly recommend the rotisserie chicken to you, and paired with the mashed potatoes, it's just heavenly. The French onion soup is an essential. You'll want to note that the building was designed by Michael Guthrie, a San Francisco architect. It's beautiful. In terms of the menu you can't go wrong with any of the poultry, meat, or fish dishes. Everything is fantastic! You can find Left Bank Brasserie on Santa Cruz Avenue between Curtis Street and Doyle Street.
Iberia Restaurant
If you've looking for a Spanish and European restaurant that specializes in tapas and has already stood the test of time, you'll definitely want to take a look at Iberia Restaurant. This place has been going strong since 1984, and with good reason! This is outdoor dining at its best. They've got the trees all covered in gorgeous twinkle lights, and pretty fountains providing a natural soundscape for your meal. If you're planning that perfect date or special anniversary, we can't think of a better place for it than this. The wine is wonderful, and any one of the seafood dishes would easily get our highest recommendations. You can find Iberia Restaurant on Alma Street near Ravenswood Avenue.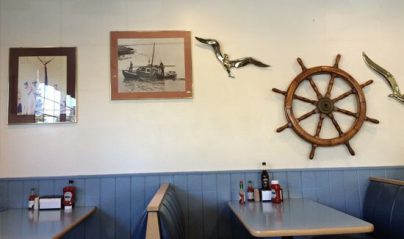 Cook's Seafood Restaurant & Market
Cook's Seafood Restaurant & Market is both a great place to buy your own fresh fish and a great place to come in and dine. The fish and chips are excellent, and we absolutely love their fried prawns. They've expanded the restaurant, so there's probably more seating here now than the last time you came in. We love to come in for lunch or dinner and then leave with a bunch of great fresh fish to prepare at home! We would very highly recommend this restaurant to any seafood lovers out there! It's an essential for you. You'll be able to find it on El Camino Real near Roble Avenue.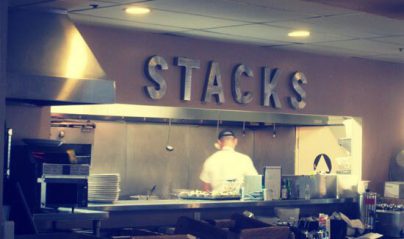 Stacks
Stacks is of course known for their incredible stacks of pancakes, and because of that we absolutely adore this place for a great breakfast! The blueberry pancakes are our favorite, and since they serve breakfast all day you don't have to worry about getting there early enough to get some! It's not just pancakes here... they also have delicious scrambles and skillets, and really fabulous coffee too. Just thinking about it makes us want to go order a cup right now. The wait can be on the verge of ridiculous on the weekends, so give yourself plenty of extra time or shoot for a less busy weekday! You can find Stacks on Santa Cruz Avenue between El Camino Real and Johnston Lane.