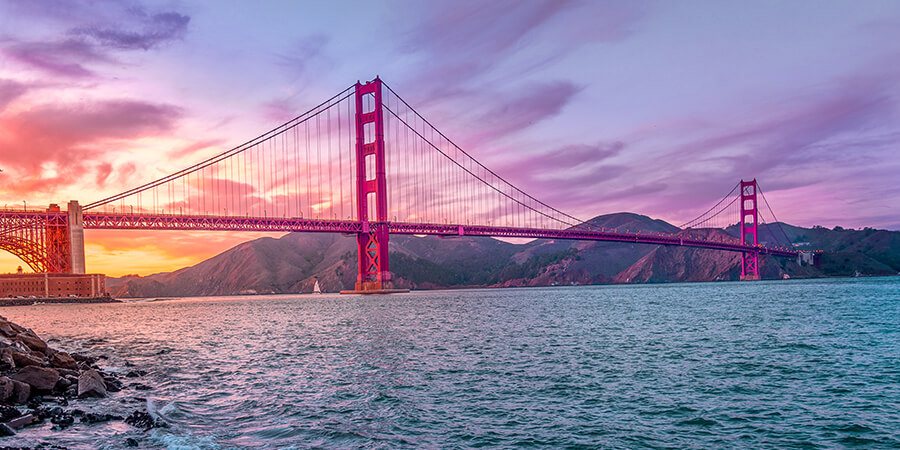 MARSHALL, CALIFORNIA
is not to be confused with the location in El Dorado County that went by the same name. This Marshall is a small community located in Marin County, with a population of just 400. It's located on Tomales Bay, and though the town was once named for its dairy business and the four Marshall brothers who started it, it's much more known for its clam and oyster business at this point in time. Regardless of what industry it's known for, Marshall has a gorgeous, serene shoreline. Are you visiting the 94940 zip code anytime soon? Then take a look at our picks for the best bars and restaurants in the area.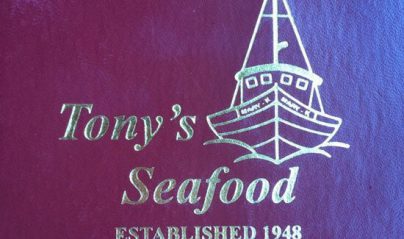 Tony's Seafood Restaurant
Tony's Seafood Restaurant is one of our favorite restaurants in Marshall, situated in one of the most beautiful spots that you'll find on the bay, with a truly amazing view. Their BBQ'ed oysters are something that you have got to try for yourself, and when you get a taste of that divine garlic butter sauce, you will really go wild. It's that good! The service, even at their busiest moments, is always top notch. And they can be very busy... so you may want to aim for the less packed times, such as a weekday after lunch but before dinner. Otherwise just give yourself a nice leisurely pace (dining any other way just isn't enjoyable anyway!). Tony's Seafood Restaurant is located at 18863 California 1.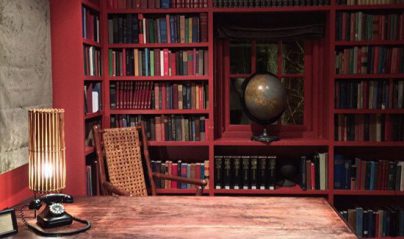 Manka's Inverness Lodge and Restaurant
Located in nearby Inverness, Manka's Lodge is is a wonderfully romantic spot for those who are celebrating a special occasion, such as anniversaries, or who just want to enjoy a special date any night of the week. After enjoying a fine meal in their dining area, you'll really enjoy the lodging, complete with redwood hot tubs in some of the rooms, in-room massage, and sound systems that hook up to your iPod or mp3 player. Some say that the price for dinner is too expensive, but we say that for this kind of quality it is worth it! You can find Manka's by heading to 30 Callendar Way in Inverness.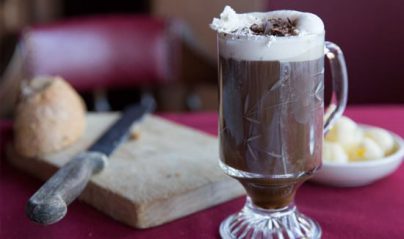 Vladimir's Czech Restaurant
If you've never had the pleasure of trying Czech food, it's time to head over to Vladimir's Czech Restaurant and find out what you have been missing. It's very comfortable and unpretentious here, with a heavy focus on the delicious food rather than fancy bells and whistles. You don't come here for the ambiance, you come here for the delicious Czech fare. We love the authentic accordian music and the Pilsner beer! Due to restrictions in California law, because of their mini bar area, they cannot allow children in the restaurant, so reserve this one for your romantic dates, not family get togethers! You can find Vladimir's Czech Restaurant on Sir Francis Drake Boulevard between Inverness Way and Adler Lane, in nearby Inverness.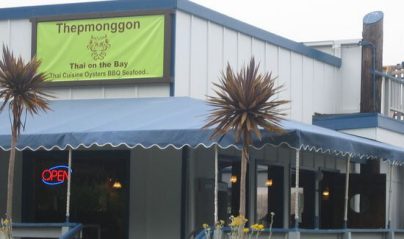 Thepmonggon Thai On The Bay - CLOSED
If you are seeking great Thai food in Marshall, you'll only have to travel a short distance to Inverness, to Thepmonggon Thai On The Bay. We just love this place. It's described as "casual elegant" and we'd say that's right on the money. Our favorite dish on their menu is the flavorful Pad Thai, but we're also partial to the oyster sampler and the angel wings. Their green curry is out of this world, and the appetizers are all really worth trying. There's a great view that you can enjoy from their outdoor seating area too! Thepmonggon is located on Sir Francis Drake Blvd near Pine Hill Drive. Very highly recommended.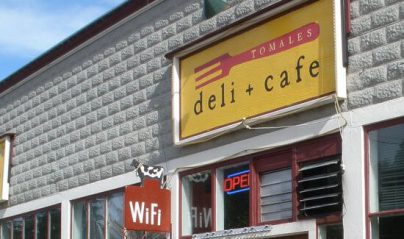 Tomales Deli & Café
Tomales Deli & Café is our favorite place for breakfast, and for many it's the first business they visit in the morning! They've got satisfying egg sandwiches, delicious coffee (note that refills aren't free though), and most of your breakfast favorites. Everything is local and organic, including grass fed beef, creamy ice cream, and the best chai you'll ever taste. It's just cozy here, completely unpretentious, and with an old country charm that we just love. You can find Tomales Deli & Café at 27000 Maine Street in nearby Tomales! One of the very best.
Cowgirl Creamery
If you head over to Point Reyes Station, you'll find the Cowgirl Creamy. This place gets a recommendation because of all the fresh goods, including cheese, sourdough bread, and iced tea! Everything offered is fresh and homemade. You can even find your Blue Bottle Coffee and XOX Truffles here. That's a nice touch. Did we mention the freshly shucked oysters? There are so many amazing options here, and so many different ways to compile the perfect lunch. You'll want to note that they are closed on Mondays and Tuesdays, and they close at 6:00 PM every other day of the week. Definitely worth a trip!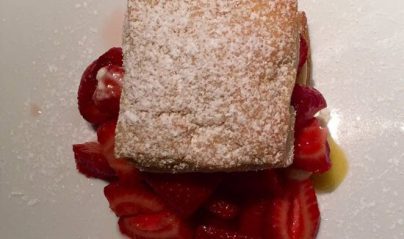 Osteria Stellina
Osteria Stellina is one of the finest organic wine bars that we have ever been to. The chef's name is Christian Caiazzo, and you'll want to remember that name. You'll understand why when you taste the gourmet creations here. The food is simple, fresh, and flavorful and is presented beautifully. They forget the pretense here and just keep it fresh and flavorful. And that's the way it should be. The decor is lovely and rustic, with a charm all its own, and the service is really wonderful too. Your experience here will be nothing short of perfect. Head on over to Osteria Stellina, located at 11285 Highway 1, over in Point Reyes Station.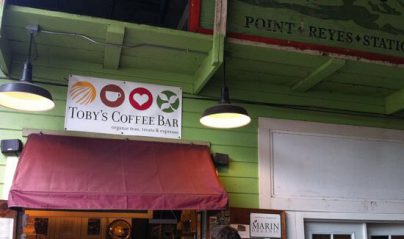 Toby's CoffeeBar
Toby's CoffeeBar is one of our favorite haunts for a great cup of joe, but that's only the beginning of what you will find here! They also sell hay and feed for horses and goats, Solid Gold and Science Diet pet food, and many great beauty products including Burt's Bees. Lots of gourmet foods are sold here including teas and honeys, jellies and jams, and dairy. There's even an art gallery and yoga studio! The only word that could possibly apply to this place is eclectic. And we love it. You can get to Toby's CoffeeBar by heading to 11250 Highway 1 in nearby Point Reyes Station. Definitely worth checking out.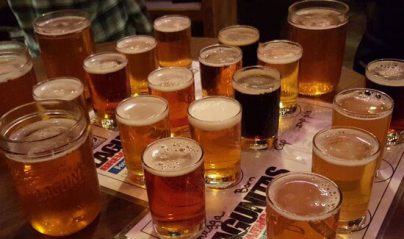 Lagunitas Brewing Company
Lagunitas Brewing Company is located in nearby Petaluma, and beer lovers will definitely want to check this place out. If you're hungry, we can say that this place also offers delicious panini sandwich, and when you pair that with their exquisite beers, you really have a match made in heaven. We love to come in on a weekly basis to try the new beers. The otudoor seating is just excellent. True beer garden style. Everybody recommends this place, and for good reason! Now we're recommending it too. It can be found on North McDowell Boulevard between Ross Street and Scott Street. Very highly recommended!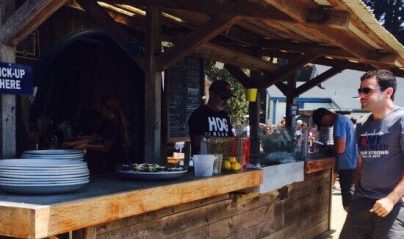 Hog Island Oyster
Hog Island Oyster isn't exactly a restaurant, more of a do-it-yourself oyster shucking farm where you can enjoy a picnic. This place is great if you want to have a new experience with your friends to spend time with the family. You can bring your own shucking gloves, picnic gear, and charcoal, or pay the rental fee and use theirs. Reservations are a very good idea, because this place is very popular with both tourists and locals, and it's tough to get a picnic table! This is one of the most fun activities that you will find in the area, so be sure to check it out when you're here! Hog Island Oyster is located at 20215 California 1.