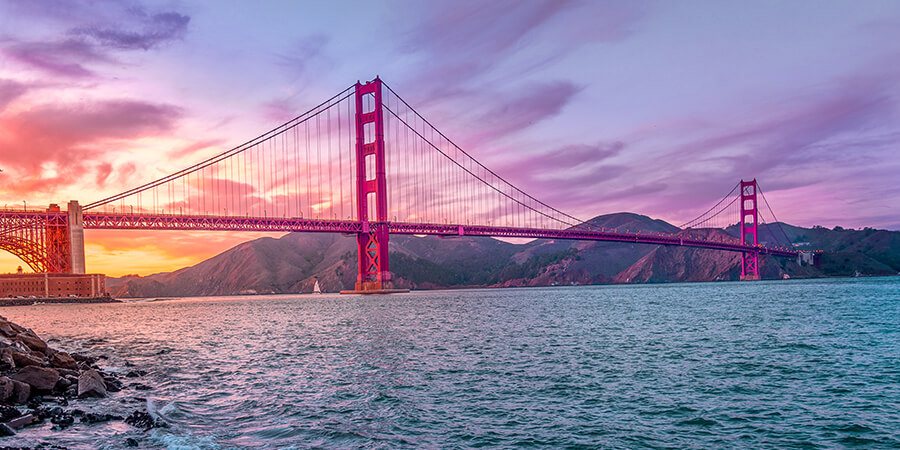 HILLSBOROUGH, CALIFORNIA
is a town in the county of San Mateo with a population of just over ten thousand. It is perhaps best known for the many mansions that dot its landscape, with many being build in the early 1900s. Carolands, Skyfarm, Uplands, and Western White House are the four most famous ones. Many celebrities call Hillsborough home or have called it home in the past, including Barry Bonds, Ricky Henderson, Martin Yan, Alicia Silverstone, Tyson Beckford, and Bing Crosby. Planning to visit the Hillsborough area? Then take note of these great eateries and lounges located near the 94010 zip code, most if not all of which are located in nearby Burlingame.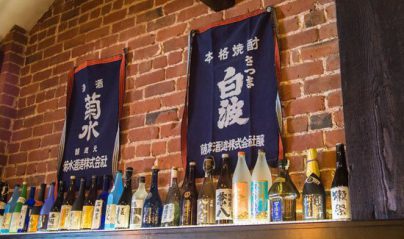 Sakae Restaurant
Sakae Restaurant, located in nearby Burlingame, is our favorite spot to go for sushi in the Hillsborough area. They have all the usual suspects here, including spicy tuna rolls, albacore, yellowtail, baby squid, bonito, and kampachi, as well as some more unusual items that are much harder to find. The sashimi dishes are superb. It's true that the prices are a little bit higher here than at other sushi restaurants in the area, but it's also a cut above the rest in terms of service, quality, and ambiance. So we say it's definitely worth it. You will definitely want to check out Sakae Restaurant on California Drive between South Lane and Highland Avenue, in Burlingame.
Il Fornaio
Il Fornaio has always been one of our favorite Italian restaurants, and this location in nearby Burlingame is no exception! They're so consistent with the quality and presentation of their food. We love beginning our meal with their fantastic bread and olive oil. The offerings here are all wonderful, from the salads to the pastas, and including all the mouth watering entrees. It would be hard to find better Italian food than this in the Hillsborough-Burlingame area, and perhaps even in the entire San Francisco area! We just love it. You can find Il Fornaio on Lorton Avenue near Donnelly Avenue in Burlingame.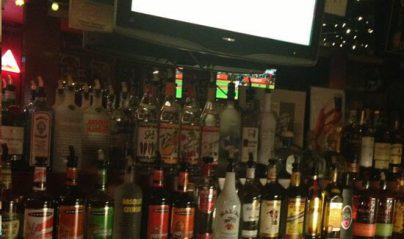 Behan's Irish Pub
Behan's Irish Pub has got to be one of the best places to hang out with your good buddies any night of the week, and the weekends are really jumping! They've got great karaoke on Sundays and all the local talent really comes out in force to show what they can do. This is one of the most cozy and comfortable neighborhood bars, kept very clean, and presented with class yet absolutely zero pretense! The food and drinks are fantastic, and the service is just great. Very old fashioned and attentive. You can find Behan's Irish Pub on Broadway between Capuchino and Paloma in Burlingame.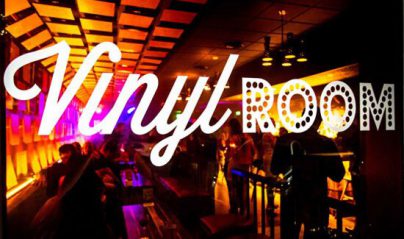 Vinyl Room
Vinyl Room is one of the more upscale nightclubs in the Hillsborough-Burlingame area. We love the custom furniture, very hip and eye catching, as well as being very comfortable. You may want to arrive early to secure a prime spot! The cocktails here are really top of the line, and whether you go with a top shelf liquor or a well drink, you can be sure that the bartenders will mix it just perfectly. They really know what they're doing. With a different theme every night of the week, they're always mixing it up and keeping it lively. Vinyl Room is located on Park Road between Burlingame Avenue and Howard Avenue in Burlingame.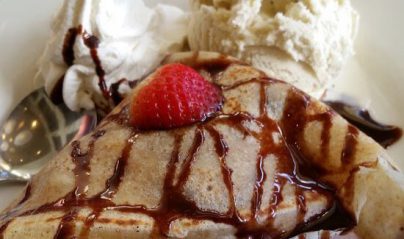 Crepevine
Crepevine is one of our favorite breakfast spots in the Hillsborough-Burlingame area, but it's much more than just a breakfast stop! It's great any time of day. We really love their Salmon Crepe, and how about that Florentine Crepe? Wow. So good. The portions are just huge here. Even though the crepes are the star of the show, we are most enamored with the Bombay Salad, and we also enjoy their blueberry pancakes and delicious soy lattes. Everything is made just perfectly and served with a smile. We enjoy the service here just as much as the food! Crepevine is located on Burlingame Avenue between Park Road and Primrose Road in Burlingame.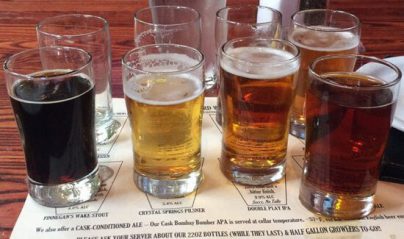 Steelhead Brewery Co
Steelhead Brewery Co gets our vote for the best brewpub around, because of its family friendly atmosphere earlier in the day and its fun pub scene at night! We love coming in to enjoy their microbrews and craftbrews, including that wonderful Steelhead Broadway Blonde. It doesn't get any better than that. As far as the food, we'd recommend the ostrich burger, the calamari, and really any one of the sandwiches! Everything is so good. You won't have to break the bank to enjoy a great meal here! And the service is out of this world. Steelhead Brewery Co is found on California Drive near the intersection with North Lane, in nearby Burlingame.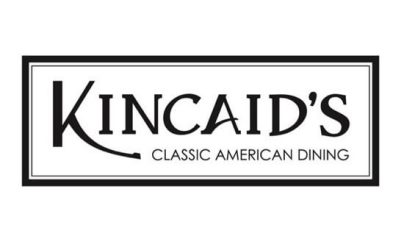 Kincaid's Bayhouse
Kincaid's Bayhouse is the best of the best in Hillsborough-Burlingame when it comes to delicious steaks and seafood! This steakhouse is constantly calling our name, with that elegant patio for the warmer months of the year, and the comfortable bar with its sleek lines and elegant styling. We enjoy their beer selection here as well as the wine menu, and when it comes to dining, you'll want to take advantage of their incredible calamari, crab cakes, salads, scallops, and steaks! It's all so good, it's tough to pick a favorite! The service is excellent here too. Kincaid's is located at 60 Bay View Place in Burlingame. Very highly recommended.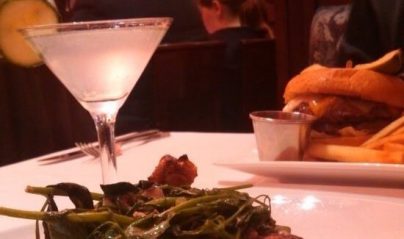 Broadway Grill Restaurant
Broadway Grill Restaurant is a really great place to go if you like to enjoy live jazz with your food and drinks... They've got Motown night every Monday which we really enjoy. The steaks, seafoods, and pastas are really mouth wateringly good here. They cook the steaks to perfection, so juicy and flavorful. The seafood is supremely fresh and tasty. And the pastas are cooked just right, al dente, with just the right amount of sauce. Coming in during happy hour will help you to save a few bucks too. We love the outdoor seating area here! Be sure to come in and try their excellent prime rib at Broadway Grill Restaurant, at 1400 Broadway in nearby Burlingame!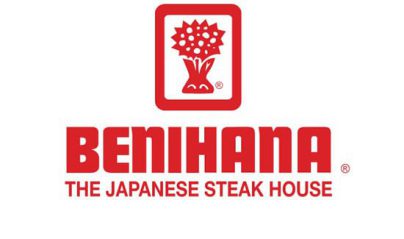 Benihana
We rarely recommend chain restaurants, but Benihana is one of those rare exceptions, because they're just so good. There's a reason that these restaurants have been successful since 1985 and they show no signs of slowing down. The sushi is of course fantastic, but their Teppanyaki offerings are also really delicious. Their fried rice is so good that we often substitute it for the white rice. Though many complain about the high cost of this restaurant, we find it to be on par with most of our other favorite sushi restaurants in the area. You can find Benihana at 1496 Bayshore Highway in Burlingame!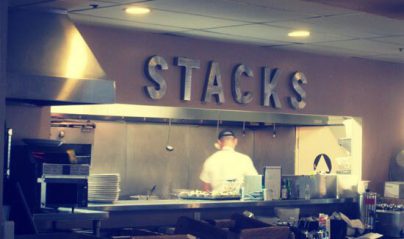 Stacks
Stacks is our favorite place to go for breakfast when we're in the Hillsborough and Burlingame area. The blueberry pancakes are one of the things that they're known for, and when you pair that with their sublime coffee you will really go wild. Their French toast is also amazing, cooked just perfectly with the most delicious flavor. Wow. If you are a pancake lover and a breakfast lover in general, don't miss Stacks. You can find this one on California Drive near the intersection with Lorton Avenue, in nearby Burlingame!