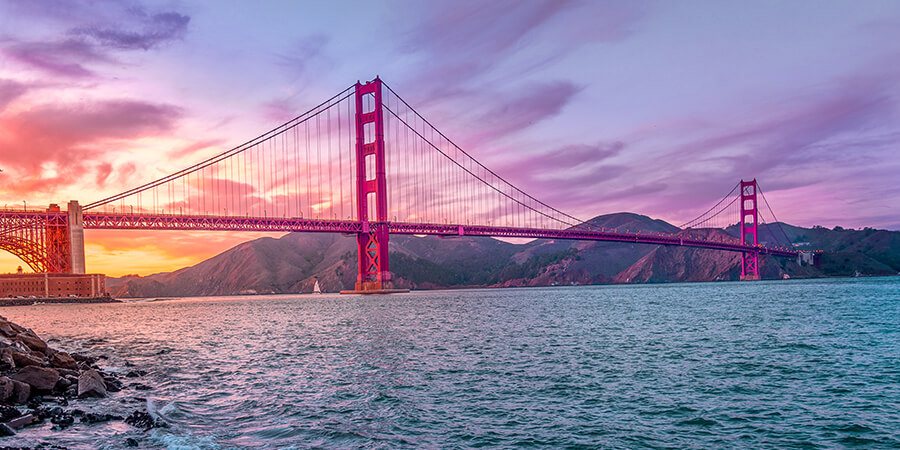 BURLINGAME, CALIFORNIA
is located with San Mateo County, and it is a medium-sized city near San Francisco, with about 28,000 residents at last count. It's of course got that gorgeous view of the San Francisco Bay, and it's also the home of historic Kohl Mansion where Flubber was filmed, and Burlingame High School where some scenes from Dangerous Minds were filmed. On a more quirky note, it also happens to be the home of The Burlingame Museum of Pez Memorabilia! Planning to visit the 94010, 94011, and 94012 zip codes? Then check out these excellent eateries and lounges in the area. We hope you'll enjoy them as much as we do.
Broadway Grill Restaurant
Broadway Grill Restaurant has got to be our favorite place to dine and drink in Burlingame. Motown Mondays are of course our favorite day to come in, but any day of the week you'll find delicious steaks and seafood as well as fresh delicious pastas just waiting to be devoured! The ambiance is excellent and the service is out of this world. Live jazz, outdoor seating, happy hour... What more could you want in a restaurant? The prime rib and a house salad is the perfect combination if you ask us. We've run into a few celebs here too! You can find Broadway Grill Restaurant at 1400 Broadway!
Kincaid's Bayhouse
Kincaid's Bayhouse is an elegant yet comfortable steakhouse and seafood restaurant. They've got a gorgeous patio that you'll enjoy when the weather is warm, and a wonderful bar with a sophisticated lounge vibe. The selection of beer and wine is superb. You'll want to try the calamari and crab cakes for sure, and we also love the salads. The scallops make a great entree choice, as do any one of the steaks! Fabulous desserts too! And did we mention how great the service is? Very attentive and friendly. You can find Kincaid's Bayhouse at 60 Bay View Place.
Benihana
Benihana may be a chain restaurant, and we normally shy away from those, but this particular location has been open since 1985, and we simply love it. They've got all your favorite dishes here, from great sushi to delicious Japanese and Teppanyaki favorites. We love to substitute fried rice for the standard white rice for a small extra charge. Some say that it's overpriced here, but we enjoy the ambiance and the high quality food so much, we really think it's worth the premium cost. Especially when you consider the high quality service and the experienced chefs. You can find this Benihana location at 1496 Bayshore Highway!
Stacks
Stacks is known for their incredible breakfasts and brunches, and we have really come to think of it as a tradition in Burlingame. We love to come in for their blueberry pancakes, and their coffee is simply superb. If you're a French toast lover, you'll absolutely fall in love with theirs. It's so fluffy and flavorful, you'll wonder how they could achieve it. All your breakfast favorites are here, and it's truly a cut above the rest. Forget those other morning standards... Stacks is the only name you need to know. You can find Stacks on California Drive near the intersection with Lorton Avenue.
Sakae Restaurant
Sakae Restaurant is the premier spot for sushi in Burlingame! The prices are as premium as the food itself, but this is one case where you definitely get what you pay for. If you are a sushi lover like we are, you already know that. They've got all your traditional favorites including yellowtail, albacore, baby squid, spicy tuna rolls, kampachi, bonito, and much more. The fish is as fresh as it can possibly get. The service is truly high quality, like what you'd expect if you jetted over to Tokyo for an authentic sushi experience! We just love it here. You can find Sakae Restaurant on California Drive between South Lane and Highland Avenue.
Il Fornaio
All of the Il Fornaio locations always get our highest recommendation, but the one in Burlingame is really something special. Of course the food is consistent at each location or we wouldn't bother to recommend them, but we think the service and the ambiance is a cut above the rest here in Burlingame. We love the Italian style decor almost as much as we love their fantastic food! The bread and olive oil is the best you'll ever taste, and all their salads and pastas are nothing short of mouthwatering. Excellent entrees. Everything here is Italian at its best! You can find this Il Fornaio location on Lorton Avenue near the intersection with Donnelly Avenue.
Steelhead Brewery Co
Steelhead Brewery Co is a fun brewpub and restaurant that's family friendly in the daytime and a bit more of a bar scene in the evenings. Our favorite beer here would have to be the Steelhead Broadway Blonde. It's very bold and flavorful. The menu has wonderful sandwiches, calamari, and other American favorites, plus some more unusual choices like the ostrich burger! It's very good. The prices are relatively affordable here, and the items that go a little higher in price are definitely worth the extra cost. We love the outdoor patio too! You can find Steelhead Brewery Co on California Drive near the intersection with North Lane.
Crepevine
You heard it through the grapevine? Well, we heard it through the Crepevine, and we just love this place! Our favorite item on the menu is actually the Bombay Salad! The portion size is enormous and it's so flavorful. Of course they're famous for their crepes, and they've got a huge variety of them to please your tastebuds. We love the Florentine Crepe, and the Salmon Crepe is very rich and delicious. Wonderful blueberry pancakes, and great soy lattes too! You can find Crepevine on Burlingame Avenue between Park Road and Primrose Road.
Vinyl Room
Vinyl Room is a very cool little cocktail bar and nightclub where we love to dance the night away! The prices are a little bit higher here than at some other clubs in the area, but it's worth it for the great service and incredible atmosphere. They've got a different theme every night of the week to keep things lively, and they've got great music here too. The furniture is one of the features here, all custom and very impressive. The drinks are excellent, prepared and served by very friendly and knowledgeable bartenders. You can find Vinyl Room on Park Road between Burlingame Avenue and Howard Avenue.
Behan's Irish Pub
It's tough for us to resist a good Irish pub, and Behan's Irish Pub is one of the best! We tend to come in on Sunday nights for their excellent karaoke, but any night of the week is great. It's never too crowded, just a cozy neighborhood venue where the drinks are good and the regulars are fun and friendly. And the staff is even better! So attentive to your needs. And the ambiance is so clean and authentic. Everything about this place is pleasant and charming. You can find Behan's Irish Pub on Broadway between Capuchino Avenue and Paloma Avenue.